Back
Plast-ax 1.5m3 Front End Load Waste & Recycling Skip Bin
PLAST-AX 1.5m3 FEL Bin with Lids - $845 + GST* 
Our brand new, 100% LDPE Front Load Bin, with integral moulded side fork sleeves. 22 years of Plast-ax experience brings you our strongest ever designed bin with up to 40mm solid plastic. World leading extreme proven design strength.
Click here to watch full FEL fork pocket testing video
Capacity:                           1508 Litres
Dimensions:                      1970 x 1120 x 1038mm H
FEL Fork Width:                1850 mm (centres)
Tare Weight:                       89 kg (with locking bar)
Weight Rating:                   600kg (BS EN12574-2:2017)
Featuring low height fill, light weight easy handing, large castor easy roll, lids that shut firm, optional lock down, tapered design for emptying, slimline and silent for CBD use, with a PLAST-AX superior finish for easy clean. You'll have no maintenance or upkeep hassles with this exceptionally strong, good looking FEL Bin.
Design Strength:
Full Box Section Top Rim
Integral Side Fork Sleeves
Solid Honeycomb style bracing
Nesting Rim and Corner Pillars
Up to 40mm solid plastic
In Full Compliance with BS EN 12574-2:2017
100x consecutive lifts @ 600kg
Heavy Waste 600kg Weight Rated
Testing includes drop ball & impact tests
Complete Test Report available on request
View footage of 600kg 100x lift test here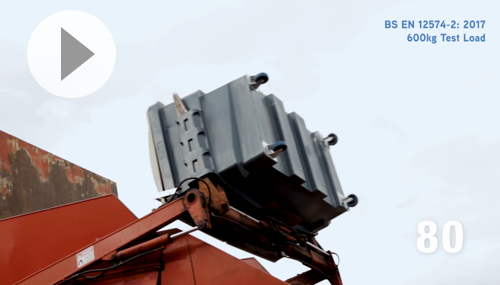 Lids + Hinging:
Hinged smooth and strong
Fibreglass Hinge Rod
Lids sit tight, flat and flush
Strong Ribbed Curves
Easy-lift rebated handles
Optional Locking Bar
Castors, Fixings & Strength Plates:
125mm Rubber
2x Swivel Braked + 2x Fixed
Stainless Steel M8 Fixings
Additional 3mm Strength Plate
Nests 4x with castors fitted
Plast-ax LDPE:
No Rust
No Repainting
No Corrosion
UV Stabilised 
No Colour Fade
No Sharp Edges
FDA Food Grade
Silent Collection
Impact Resistant
100% Recyclable
 For the first time, an all plastic waste and recycling front load bin has the design and strength to handle any refuse, rubbish or recycling you need to throw in it: Cardboard, Food Waste, Glass, Green Waste, Metal, Paper, Plastic and general commercial and industrial waste. 
*Per Unit Pricing in NZD. Locking Bar & Castors Additional. Excludes any freight. Stocked Colours
CALL US TODAY - 0800 788 780